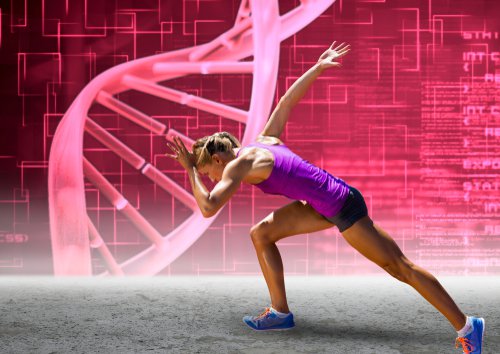 As athletes age and the demands of their lives beyond sports increase, finding a way to reduce injuries and maximize performance can be difficult. Athletes over the age of 35 -- known as Master's Athletes -- often experience a decline in recovery times and suffer from preventable chronic disease.
Master's Athletes deserve care from a sports medicine physician who truly understands their individual needs down to their unique genetic signature. As a sports medicine specialist with training in genomics, Dr. Trevor Turner created Misogi Health to deliver precision medical care and help amateur and professional athletes over 35 perform at their highest level.
With Misogi Health, Master's Athletes can benefit from an individualized and comprehensive approach tailored to their specific needs. By utilizing the Misogi Health method, Dr. Turner goes beyond the standard of care to optimize the entire patient journey, providing patients with the specialized care they need to recover from sports injuries, prevent future injury, and keep challenging themselves mentally and physically.
Here's some more information on how Misogi Health works to optimize sports medicine care and enhance fitness for Master's Athletes:
What Does 'Misogi' Mean?
The concept of misogi is rooted in Shinto, the traditional religion of Japan. In religious rituals, participants would wash themselves in sacred waterfalls, lakes, and rivers to perform a purification act. Nowadays, misogi has come to mean difficult challenges in nature or 'detoxing' from modern conveniences.
By facing these strenuous tasks ourselves and pushing our physical boundaries, we can gain a better understanding of our capabilities and sharpen our skills for everyday life. When we return from our tribulations in the wilderness, we are not just stronger; we are equipped with the right tools for whatever lies ahead.
What Is the Misogi Health Platform?
Misogi Health is a precision care platform designed specifically for Master's Athletes. It combines data-driven analytics with personalized medical advice, so athletes can get the best treatment possible and recover quickly from injuries.
Misogi Health combines science, technology, and precision care from sports medicine specialists with training in genomics to help Master's Athletes stay healthy, reduce their risk of chronic injuries, and maximize their performance. It includes personalized exercise and recovery prescriptions based on a patient's individual goals and biometric data. Patients also get access to nutrition counseling and tailored injury prevention from Dr. Turner who holds fitness certifications from EXOS, NSCA, and CrossFit.
How Does Misogi Health Work?
Dr. Turner's Misogi Health sports medicine platform is based on seven pillars of care:
Care: Patients get accountability and communication from both MDs and health coaches. All visits are an hour to ensure that patients receive genuine dialogue, and telemedicine is available to accommodate schedules. We partner with Premier Sports Psychology for select clients.
Genomics: By performing a saliva analysis, patients receive DNA-based insight into their unique nutritional needs, exercise habits, sleeping patterns, neurological tendencies, chronic disease risks, and longevity goals.
Biometrics: To foster truly personalized, data-driven sports medicine, we use wearable tools like Oura ring and continuous glucose monitors to identify the most efficient habits that maximize patient goals while minimizing risk in their day-to-day lives.
Diagnostics: Traditional population health metrics are often insufficient in finding out the true sickness-wellness-fitness balance of an individual. To gain real insights into a patient's overall health, our sports medicine professionals use Dexa scans alongside resting metabolic rate and VO2 Max testing. Whole-body MRI scans are available for select clients.
Bloodwork: With preferential pricing by LabCorp, our patients can choose to get customized lab orders at participating Walgreens, or from the comfort of their home or workplace.
Nutrition: Gut microbiome testing helps us establish our clients' ideal genetic diets and how to avoid inflammatory foods.
Supplements: Through actionable data insights obtained from all the above sources, we offer our patients discounted access to Thorne supplements which are routinely reviewed for maximum effectiveness.

Is Misogi Health For Me?
Are you a Master's Athlete looking for optimal care? If so, then yes. Misogi Health is designed to help you stay healthy and improve your performance — because fitness is a way of life. Dr. Turner is here to support those over the age of 35 who have dedicated their lives to mental, emotional, and physical excellence. With our platform, you can train smarter and extend your prime performance years while minimizing the need for prescription medicines and surgeries.
Misogi Health is perfect for Master's Athletes looking to stay healthy and maximize their performance. Whether you're a CrossFitter, runner, cyclist, swimmer, weightlifter, golfer, tennis player, or any other type of athlete continuing to challenge yourself physically as you age, Misogi Health can provide you with the specialized care you need to keep pushing your boundaries.
So if you're looking for personalized care and the latest technology-driven insights to help you prevent disease and reach your goals, Misogi Health is the platform for you.
Visit Georgia's Top Sports Medicine Specialist
Misogi Health believes there is an Olympian in all of us. Isn't it time you received Olympic-level prevision care? It's time to focus on athletes of all levels to stay in peak condition, prevent injury, and live life to the fullest. Reach out today for a personalized care plan tailored to your needs!
Are you ready to take your health and performance to the next level? Schedule your first consultation with Dr. Trevor Turner and begin to experience Misogi Health's individualized and comprehensive approach.